Cognitive remediation can sometimes take a backseat to time-consuming cognitive assessments and emotional support; HappyNeuron Pro can help solve this problem with its home training option. Home training allows an extension of the tracked, controlled environment present in a clinical or therapeutic environment into a patient's home. This allows patients to take a greater degree of responsibility and serves to enhance therapy provided during clinic hours, reinforcing and adding more practice of cognitive skills over time without the necessity of live monitoring.
After using cognitive tests to measure a patient's cognitive performance and potential problems, the next step is to choose HappyNeuron Pro activities to use with a patient and set a personal cognitive remediation program. With a wide array of cognitive activities to choose from, HappyNeuron Pro can be used to supplement therapy for a variety of situations.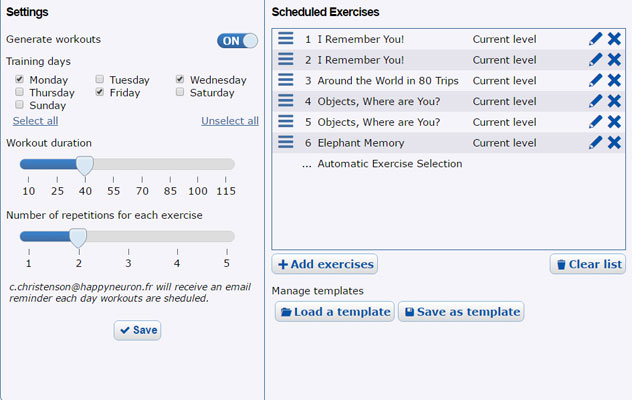 Beyond Cognitive Activities and Assessments
Thanks to its advanced results unit, HappyNeuron Pro is a reliable follow up tool for healthcare professionals. It allows users to track progression over time and adjust the difficulty level of activities to match cognitive skills and treatment progression, and it can do this with at home exercises as well as those performed in the presence of a therapist. Difficulty adjustment is a major feature not only because it is necessary to increase the difficulty in order to challenge the patient and highlight improvements, but also because it is important not to lead the patient to a demotivating failure.
While HappyNeuron Pro gives patients increased control over their input, it is important to note that the clinician has complete control over what activities are done, at what difficulty, and can continue to track progress. This way the clinician can make sure the patient engages in something the clinician knows is safe and healthy for the patient to do because the clinician has set the patient's course. With this control, a therapist can have the patient drill at home with higher intensity, getting the efficacy of face-to-face care and the intensity possible with a home environment.
The results feature can also be used to detect positive or negative changes in patients; for example, by means of improvement in reaction time or a fall in performance.
If you believe HappyNeuron Pro may be useful for your practice and you're ready to try HappyNeuron Pro with your patients, click here to sign up for a 15 day free trial.
There is no obligation to purchase. A HappyNeuron product specialist can walk you through the program to make sure you get as much as possible out of the trial period.